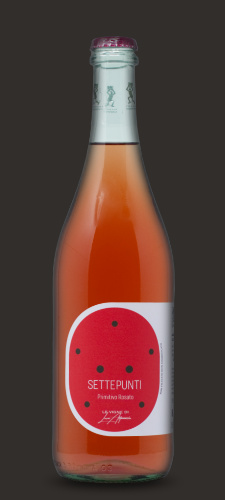 Settepunti
Salento IGP Primitivo Rosato
The name of this Primitivo Rosé is inspired by the ladybug and the black dots that characterize its livery (Coccinella septempunctata). Settepunti is dedicated to these small insects that silently free the vineyard from aphids and other harmful pests and is obtained from the vinification of racemes matured on the saplings of the saplings. Not filtered and not clarified, it is a young wine for young people, also for this reason the bottle is sealed with a crown cap, easy to open, easy to close.
---
Settepunti is a pink colored wine with coral reflections. The scent is characterized by fruity, persistent and elegant aromas. On the palate it is fresh, soft and balanced with enveloping fruity aromas. Serve very cold.
Technical data:
Production Area: Manduria
Vine: Primitivo 100%
Type: Primitivo rosé
Vineyard breeding: free-form Apulian sapling
Age of the vineyard: 50 years
Alcohol content: 12% vol.
Vinification: Steel and bottle
Abbinamenti
It is a table wine, ideal with aperitifs, appetizers, first and second courses based on fish. Also great with pizza!
---
Data Sheet