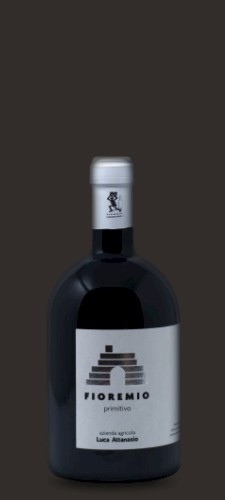 Fioremio
Puglia IGP Primitivo Rosso
Fioremio has a name that evokes the natural sweetness of this truly rare wine, which highlights a different - but no less fascinating - aspect of the generous character of Primitivo di Manduria.
---
To create this great wine, Luca Attanasio harvests the sweetest and ripest fruit from his bush-trained vines, kissed by the generous southern sun and caressed by the Ionian Sea breeze.
The prolonged drying of the grapes in the vineyard patiently concentrates and caramelises the sugars of the Primitivo, allowing Fioremio to bring out its extraordinary natural sweetness.
Fioremio is a wine with an intense flavour and pleasant aromas, made with absolute respect for tradition and the authenticity of its origins.
Technical data:
Production Area: Manduria
Vine: 100% Primitivo
Type: Primitivo rosso
Vineyard breeding: free-form Apulian sapling
Age of the vineyard: 50 years
Alcohol content: 12% vol. (variable according to vintage)
Vinification: Steel at controlled temperature
Abbinamenti
Fioremio is an elegant wine with a soft and enveloping natural sweetness that ideally accompanies almond cakes, almond figs, dark chocolate and mature cheeses.
---
Data sheet