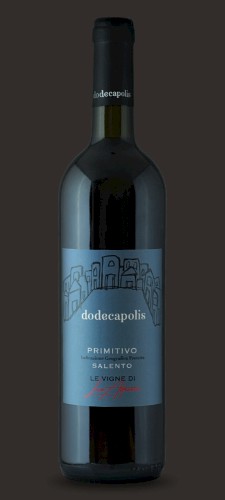 Dodecapolis
Primitivo Salento IGP
The name of this wine symbolizes the Messapian Dodecàpoli. Just as the ancient Etruscan Dodecapoli and that Ionian included twelve cities, all located in the current Salento: Alezio, Ugento, Brindisi, Vereto, Otranto, Ceglie Messapica, Manduria, Mesagne, Nardò, Oria, Cavallino, Roca. The twelve autonomous city-states were a real political-military organization with their own king and their own laws, but they all belonged to the Messapian Civilization.
Almost all were surrounded by walls and dominated by the acropolis, where stood the palaces, the temples of the gods and the agora, the square of the people, the market and meeting and included, too, the surrounding area with the villages, military outposts and ports, in addition to the campaign destined to crops and grazing.
---
Dodecapolis is an intense red wine. The nose is characterized by intense and complex aromas of ripe and plum berries. In the mouth it is rich, warm, deep, with enveloping fruity aromas of great structure. Good tannin and balanced freshness with a great final persistence.
Technical data:
Production Area: Manduria
Vine: 100% Primitivo
Type: Primitive red
Vineyard breeding: free-form Apulian sapling
Age of the vineyard: 50 years
Alcohol content: 17% vol.
Vinification: Steel at controlled temperature and aging in steel for 6 months
Abbinamenti
Elegant, robust and full-bodied wine to pair with strong dishes such as red meats and aged noble cheeses.
---
Data Sheet